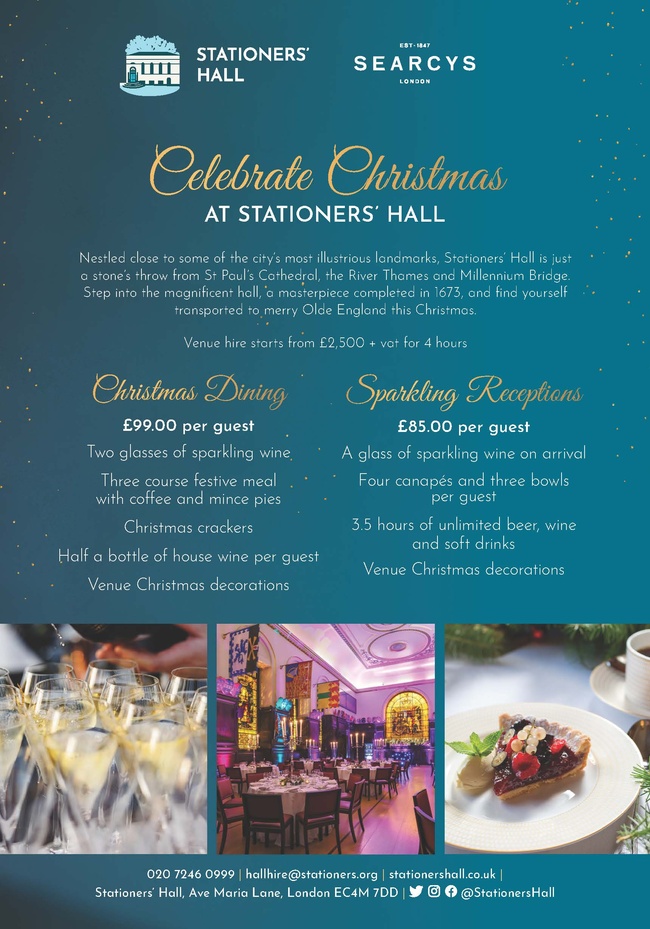 Traditional Christmas theming turns this historic grade 1 listed building into a theatrical, elegant yuletide setting for a sophisticated medieval-inspired Christmas celebration.
Nestled close to some of the city's most illustrious landmarks, Stationers' Hall is just a stone's throw from St Paul's Cathedral, the River Thames and Millennium Bridge. Immerse yourself into a seamless blend of welcoming warmth and arresting grandeur.
Pass through the cobbled courtyard into this magnificent hall, completed in 1673 and arrive in merry Olde England. Go on a journey through the walled garden, handsomely dressed in fairy lights providing that elusive touch of magic. Ascend the wrought iron staircase into the delightfully opulent Court Room where sparkling drinks await your arrival. The jewel-like stained glass windows, which overlook the garden, encapsulate a splendid transformation at dusk.
Dinner is then called in the adjoining livery hall. The beautifully maintained oak floor gleams, and the magnificently carved oak panels from the 17th century, combine with armorial banners to infuse the room with impressive gravitas. The surmounting minstrels' gallery creates the perfect stage for small bands or a festive choir to add to a thrilling backdrop of festive wonderment.
The booking process couldn't be simpler, complete our online enquiry form, and a member of our team will be in touch as soon as possible.